Egypt without Bonaparte, 1799-1801
The French hang on in Egypt
---
A map showing upper Egypt with battles indicated.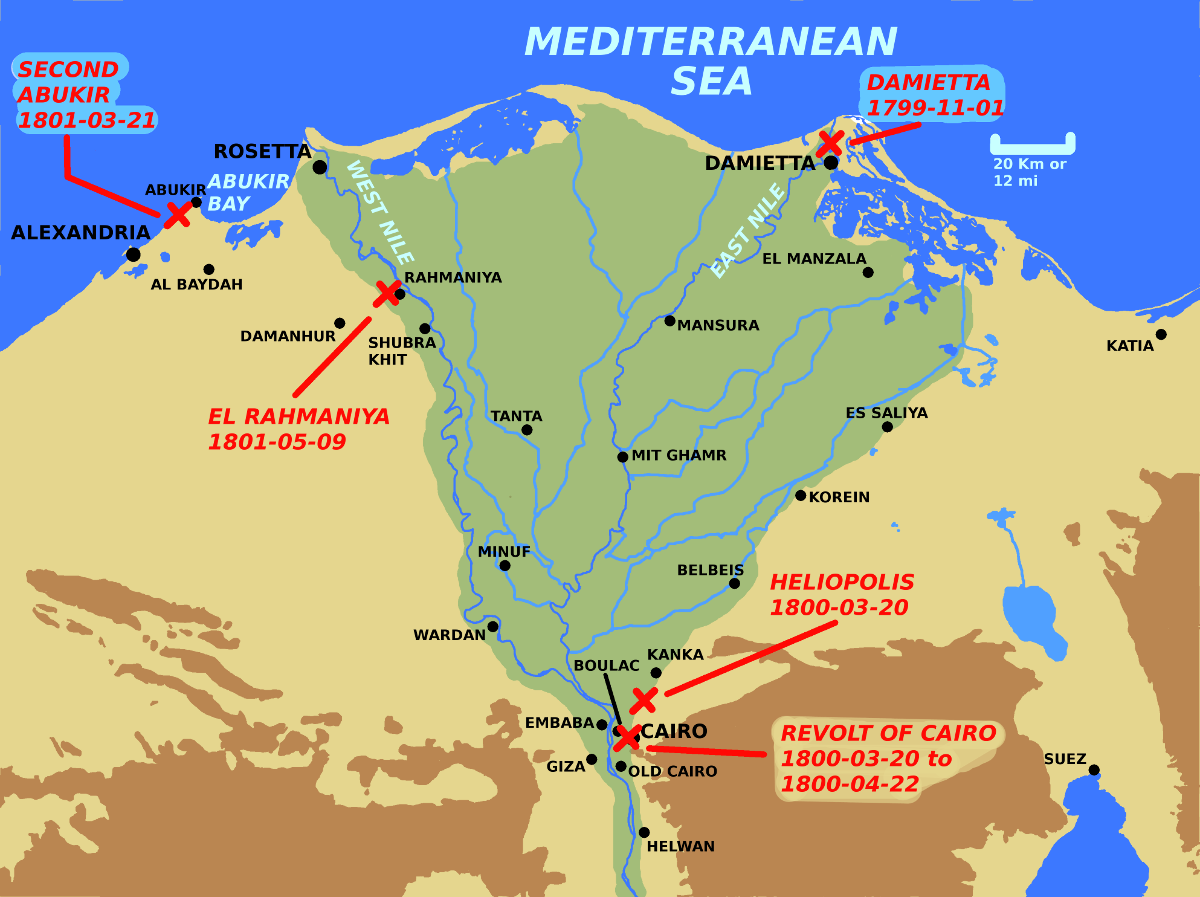 Introduction
Bonaparte left Egypt in late August of 1799. It took months before he arrived back in France where he promptly launched a coup making himself the major figure in the French government. Events in Egypt did not wait on all this.
He'd left the high command in Egypt in the hands of General Kleber. General Kleber was the head of the faction that opposed being in Egypt in the first place, considered the venture a failure, and wanted nothing more than to negotiate an evacuation of the place with the Turks and British. Likely Bonaparte left him in command as a way of preventing an open split in the French leadership in Egypt. It did not hurt that, after Desaix, Kleber was the most popular and capable of the French Generals in Egypt.
In the event Kleber negotiated an evacuation that fell through and then proceeded to beat military attempts to force the French out. He also put down all rebellion with considerable ferocity. Egypt wasn't to fall to a British invasion force until after he'd been assassinated.
If Kleber's success against odds he'd considered impossible wasn't ironic enough, it seems likely neither the evacuation would have fallen through nor would have the British attempted their invasion if they'd not intercepted a letter from Kleber vastly understating French strength in Egypt.
In the end Egypt went down in most histories as a romantic, but quixotic, side show.
The British government of the time seemed to have viewed it differently. Not only did they divert considerable resources to its taking, at least one historian believes that they would not have made a peace with France that left Egypt in French hands. The contemporary British government seems to have had a different view of the strategic situation than most later historians.
Surprised, In Charge, and Defeatist
Bonaparte had not seen fit to turn over the command of Egypt to Kleber in person. Nor in fact to even inform him of the impending event.
He also left Kleber with a treasury not just empty but in debt. To what exact degree is uncertain, but money was needed to run both the army and the country, and to provide the troops some portion of the back pay they were due. The means to obtain it weren't obvious or platable.
Given that all the available primary sources had only a partial knowledge of the situation themselves, and are known to have distorted their reports for political effect (writing quite different accounts of their situation to different parties depending on the effect they desired) it's practically impossible to be certain of the exact situation.
It is apparent that the French army in Egypt, although demoralized and not convinced of its ultimate mission in the country, was in practical terms under decent leadership up to the task of holding Lower Egypt at least. It had taken losses but was not down to the half strength Kleber (and Bonaparte himself earlier predicted) claimed in a begging letter Kleber wrote to the Directory on October 8th 1799 thinking they would still rule France when it was receivied.
It is clear that Kleber wanted to continue the correspondance with the Ottoman Turk Grand Vizer Yussef that Bonaparte had opened with the aim of evacuating Egypt on favorable terms. It also fairly clear that the Grand Vizier who had a large (80,000 men but half camp followers and most of the rest poorly trained irregulars without adequate local logistical support) army approaching from Syria was not as eager to negotiate. He overestimated his own forces and underestimated the French despite the repeated victories they'd won in the field.
This is to anticipate our story somewhat, however. In August 1799 Kleber's task was to establish his newly conferred authority.
He went about it somewhat differently than Bonaparte had. He considered the French presence in Egypt a temporary military occupation and was not concerned about winning over Muslim hearts and minds. He considered doing so a pointless and doomed effort in any case. He wanted obediance based on fearful respect and most of all he wanted taxes sufficient to meet his needs paid.
As Herold writes: &quotBonaparte's formula was to cut off six heads per day and to keep smiling. Under Kleber's administration, few heads were cut off, but there were no smiles either.&quot
Kleber sought to create an austere and powerful impression. Entering Cairo for the first time as commander in chief on August 31st 1799 he had 500 Jannisseries proceed him forcing the crowds to part and to bow to him.
He also immediately began to squeeze the Coptic tax farmers Bonaparte had relied upon for extra cash. In general he followed the policy of seeking money from those that had it. He soaked the rich. A practical appearing policy that ignored the political reality that the rich have much more political clout than the poor. Perhaps he planned to have left Egypt before the notables organized against him.
To that end of arranging a peace incorporating a French evacuation Kleber sent multiple missives to the Ottoman Grand Vizer Yussef beginning on September 17th 1799. It wasn't until late October when Sir Sidney Smith the commander of the British blockading squadron became involved that he began to have any luck. Smith wanted the French out of Egypt and Kleber back in France. In France Kleber would become a problem for Bonaparte rather than the British and Turks.
While the prelimaries to negotiations slowly developed on November 1st 1799 General Verdier with about 1,000 troops saw off a Turkish sea-borne invasion force of several times his number near Damietta.
On December 22nd 1799 &quotKleber's two negotiators went aboard H.M.S. Tigre&quot. These were Dessaix and Paussielgue, the first a moderate who thought Egypt valuable and the French position tenable but not a rabid colonist, the second responsible for the army's finances a convinced evacuationist. On January 13th 1800 accompanied by Sir Sidney Smith they arrived at the camp of the Grand Vizier at El Arish to open the main negotiations.
The Convention of El Arish
The Convention of El Arish was signed &quotby Kleber on January 28 [1800]. According to its terms, the French undertook to evacuate Katia, Es Saliya, and Bilbeis ten days after ratification, and Cairo one month later. All French forces were to withdraw to Alexandria, Abukir, and Rosetta and there to await the arrival of the Turkish transports. The Turks undertook to bring the French army, with arms and baggage, to France and, in the meantime, to allow about 2 million francs for its maintenance in Egypt.&quot
On March 2nd 1800 &quot Brigadier Latour-Maubourg arrived in Cairo fresh from Paris and brought Kleber the news of 18 Brumaire and a copy of the new Constitution.&quot It was now clear that it was useless to appeal to the French government against Bonaparte's policies. Bonaparte was the French government for all practical purposes.
Still the Convention of El Arish had already been signed and the French evacuated the eastern delta as the Grand Vizier and his army advanced as had been agreed.
A couple of weeks later that fell through. As Herold writes, on March 18th 1800: &quotKleber received from Lord Keith a personal letter couched in brutal and insulting language, in which he notified the General that His Majesty could not consent to any capitulation on any terms save unconditional surrender. By that time the Grand Vizier with 40,000 men was almost at the gates of Cairo.&quot
Arguably Sir Sidney Smith had exceeded his authority in signing the Convention of El Arish, on the other hand, both Lord Keith and the British government were far away and poorly informed. In particular they'd taken Kleber's own letter of October 8th 1799 at face value and believed the French force in Egypt to be half the size it was, and in much poorer shape than it in fact was. Sir Sidney Smith and later Sir John Moore were closer and both very skeptical of this belief but they did not ultimately determine policy.
Heliopolis
In any event Kleber on receipt of Lord Keith's letter was enraged and did an about face.
This was because without free passage granted by the British the Turkish transports would be unable to evacuate the French army to France as agreed. The Turks refused to grant a delay to clear the matter up. The allies thought they had the French in a vise and could force them to accept whatever terms they wished to impose. They proved to be mistaken.
Again Herold sums up the matter as succinctly and colorfully as possible. He writes that as of March 18th 1800 &quot Kleber's reaction was spectacular. Within forty-eight hours, he countermanded all orders regarding the evacuation; notified the Grand Vizier that the armstice was terminated; issued a proclamination to his army which, apart from the full text of Keith's letter, contains only two lines: 'Soldiers the only answer to such insolence is victory: prepare yourself for battle'; and at 2 a.m., on March 20, sallied forth from Cairo to meet the Grand Vizier. Before night fell, he had routed an army four times as large as his, near the ruins of Heliopolis: his attack had taken the Turks completely by surprise. A week later, he had driven the Turkish army out of Egypt.&quot
Well mostly at any rate. During the battle a detachment under Nassim Pasha the son of the Grand Vizier had slipped into Cairo and announcing a great Turkish victory raised a revolt there.
It was a week before Kleber returned to Cairo on March 27th. It took him an other four weeks to brutally and systematically reduce the city. He was helped in this seige by a deal with Murad Bey in which in return for the governorship of Upper Egypt Murad Bey agreed to help starve out Cairo and to pay a regular tribute.
On April 22nd 1800 Cairo surrendered. In contrast to the extreme brutallity and high casualties inflicted during the seige the terms were lenient. The Turks were granted free passage under escort to Syria. The population of the city were pardoned.
His preferred policy of evacuation having failed Kleber settled down to preparing for a long stay in Egypt. He was helped in this by the fact that the rebellion gave him a good excuse to expropriate the fortunes of multiple individuals.
Second Akubir
Kleber's story came to an end on June 14th 1800, the same day as the Battle of Marengo, when he was assassinated. This left the pro-colonization General Menou in charge. Menou had gone as far as to convert to Islam and marry an Egyptian girl. Unfortunately he didn't have Kleber's charisma or ability as a general.
The British having a major sea borne army under Sir Ralph Abercromby in the Mediterranean, some 17,000 men in all and believing the French in Egypt to have about the same number of scattered and demoralized troops decided to invade. They didn't do so alone a force of 5,000 men (3,000 of them Indian) under General Baird was assigned the task of making a sea-borne assault via the Red Sea and taking the vital port of Kosseir. Yet another Turkish army was to attack from Syria.
On March 8th 1801 the British made a contested landing near Akubir. The landing succeeded. The beach head was still in need of expension and the fort dominating the bay remained to be taken. The fort was taken on the 18th. The British after a series of actions that included a severe clash with French troops on the 13th had made themselves secure at the cost of some 1,300 casualties.
On March the 21st 1801 Genral Menou counter-attacked. The ensuing bitter battle is generally known as that of Second Akubir. Menou attacking with at most 12,000 men appears to have underestimated the dug in British who actually outnumbered him with between 12,000 and 15,000 men available to fight. It was hard fought battle regardless, the British losing 300 dead and another 1,200 wounded at least including Generals Moore and Abercromby. Abercromby later died of his wound. A round figure of 4,000 casualites is often quoted for the French. The British claimed to have buried over a thousand of them.
Menou compounded this loss by retreating into Alexandria and allowing the British who'd begun deficient in horses both for their cavalry and to move their artillery to out maneuver him and cut him off in the city. The French who actually had superior numbers to British expeditionary force allowed themselves to be split and dealt with in detail. One can't help but think that given his record it would have happened the other way if Bonaparte had been present, or even Kleber.
A March on Cairo
Having managed to lock Menou in Alexandria (this task was assigned to a force under General Coote who with 4,000 men was actually outnumbered by the some 7,000 Frenchmen under Menou) the main body of the English under General Hutchinson moved on the large French force in Cairo.
Hutchinson took Rosetta on April 2nd. On May 9th he engaged a French force under General Lagrange at El Rahmaniya and obliged it to retire on Cairo.
On May 28th 1,500 Mamelukes formerly commanded by Murad Bey who'd allied with the French deserted to the British. Murad Bey had died of the plague they were now led by Osman Bey.
To quote Herold: &quotOn June 19, the combined armies of Hutchinson, the Kapitan Pasha, and the Grand Vizier, reinforced by Mamelukes and Bedouins, were encamped almost within cannon range from Cairo, on both sides of the Nile&quot
The French had 12,000 men under General Belliard in Cairo. He sent an emmissary to the British camp on June 22nd and five days later capitulated. The better part of the French army in Egypt had surrendered and were on their way home. The British troops who accompanied them testified that they were still healthy men and the army in good shape. They'd just not been motivated to continue the battle.
Surrender and Evacuation
General Baird's landing at Kosseir on July 15th was reduced to a footnote.
By August 7th Belliard's army had finished embarking at Rosetta. By October they were back in France.
Menou in Alexandria held out until the end of August. The relief he hoped for never arrived in the face of British domination of the Mediterranean. On August the 26th he sent an emissary to the British. His surrender was ratified on September the 2nd by Lord Keith. The remaining French troops began to leave on September the 14th. A general peace was signed between France and England on October the 1st. The British in London were still not aware of the full extent of their sucess in Egypt at the time. By December 1801 Menou and his troops were back in France.
Summary
Peace of a sort had broken out in Europe for a few years. Both the French and British people were hardily sick of war. Unfortunately major issues remained unresolved.
It's at best unclear what the relevance of the Egyptian expedition was to this. A popular explanation of it goes something like having discovered a direct attack on England was at best risky Bonaparte rather delusionally decided he could play the part of a modern day Alexander or Tamerlane in the East. The Directory cynically indulged him with a fleet and army in order to get him out of France. Despite Bonaparte's undoubted military brillance the whole thing turned out to be the pointless doomed foray anyone sensible could have predicted from the first. But at least some good science got done.
As far as actual consequences went in the real world it allowed Bonaparte with the application of a little spin to rise to the leadership of France. It diverted some resources that the British might have been able to use elsewhere. That was it.
I suspect this conventional view is a little too pat and dismissive.
If you believe in contrafactual history, the possibility that world events could turned out significantly different from what they actually did, then you have to think that the Egyptian campaign could have had very different results.
Napoleon Bonaparte is the poster child for the idea that individuals can make a real difference in how history developes.
Even the most cynical historians, even the ones most convinced like Tolstoy that we're just the pawns of greater historical forces, tend to recognize the negative role of chance in the Egyptian campaign. Bonaparte took a lot of risks and he could have been killed, or captured with his army at a number of points. If Napoleon Bonaparte had died or been captured in 1798 or 1799 it's very hard to believe the rest of our history wouldn't have differed in a significant way.
Perhaps chance works in an asymetrical way only wrecking the plans of men.
Bonaparte himself does not appear to have believed so. He believed genius and good luck were linked and consisted in seizing the opportunities "accident" provided.
If you believe as he did, then Napoleon Emperor of an Oriental France that dominated the trade routes to India and maybe the sub-continent itself, a France that challenged Britain on the oceans as well as on land, was a possiblity. Just as the death of General Bonaparte on the expedition resulting in there never having been any Emperor Napoleon and no Napoleonic Wars was also a possiblity.
And if you believe in those two possibilites you have to believe that the Egyption campaign was not entirely unimportant.
Footnotes:
&quot Likely Bonaparte left him in command ...&quot Christopher Herold's "Bonaparte in Egypt" Location 7189
&quot by Kleber on January 28 ...&quot Christopher Herold's "Bonaparte in Egypt" Location 7413
&quot Bonaparte's formula was to cut off ...&quot Christopher Herold's "Bonaparte in Egypt" Location 7255
&quot Entering Cairo for the first time as ...&quot Christopher Herold's "Bonaparte in Egypt" Location 7230
&quot missives to the Ottoman Grand Vizer Yussef beginning on September 17th 1799 &quot Christopher Herold's "Bonaparte in Egypt" Location 7309
&quot on November 1st 1799 General Verdier ...&quot Christopher Herold's "Bonaparte in Egypt" Location 7348
Also Known as the "Battle of Lesbeh", a wikipedia entry in French could be found at https://fr.wikipedia.org/wiki/Bataille_de_Damiette_(1799) as of 2018-08-23
Also pp. 376-380 of Vol. I of Sir Sidney Smith's corrrespondance.
&quot Brigadier Latour-Maubourg arrived in Cairo fresh from Paris ...&quot Christopher Herold's "Bonaparte in Egypt" Location 7425
&quot Kleber received from Lord Keith a personal letter ...&quot Christopher Herold's "Bonaparte in Egypt" Location 7468
&quot Kleber's reaction was spectacular. Within ... &quot Christopher Herold's "Bonaparte in Egypt" Location 7483
Also see Heliopolis entry on Battles page of this web site
&quot The British having a major sea borne army ... &quot Christopher Herold's "Bonaparte in Egypt" Location 7850, Locations 7875 to 7901
Also &quot The Life of Lieutenant-General Sir John Moore by James Moore, Locations 1950 to 2122
And &quot Not a Drum was Heard&quot by Roger Day, Chapter 11: "Eventually Egypt", Locations 1235 to 1322
&quot On March the 21st 1801 Genral Menou ... &quot Christopher Herold's "Bonaparte in Egypt" Locations 7913 to 7952
Also &quot The Life of Lieutenant-General Sir John Moore by James Moore, Locations 2122 to 2231
And &quot Not a Drum was Heard&quot by Roger Day, Chapter 11: "Eventually Egypt", Locations 1335 to 1373
Books:
Main References
&quotThe Campaigns of Napoleon&quot by David Chandler, The MacMillan Company, New York, 1966
His section on the Egyptian campaign is one of the best parts of Chandler's classic work. The maps are particularily outstanding most notably the chart detailing Nelson's chase of the French across the breadth of the Mediterranean.
&quotBonaparte in Egypt&quot by J. Christopher Herold, kindle e-book by pickle partners publishing, 2016
originally published in 1962 in hardcover by Hamish Hamilton in London, Harper Row in New York, various paperback & hardcover reprints available.
Very good military account, in fact still seems to be the standard work.
&quotNapoleon's Egypt, Invading the Middle East&quot by Juan Cole, Palgrave Macmillan, New York, 2008, ISBN-13: 978-0-230-60603-6
First published in hardcover 2007
Very good on Ottoman Egyptian point of view and general cultural and philosophical background
&quotA Military History and Atlas of the Napoleonic Wars&quot by Vincent Esposito and John Elting, Greenhill Books, London, rev. ed. 1999
also known as "The West Point Atlas"
&quotCorrespondance de Napoleon 1er, Vol. 3 editors: Plon & Dumaine, Paris, 1859
As of 2018-06-21 an online version can be found at https://archive.org/details/correspondancede03napouoft
Covers #1747 (17th April 1797) to #2425 (4th March 1798), In French
&quotCorrespondance de Napoleon 1er, Vol. 4 editors: Plon & Dumaine, Paris, 1860
As of 2018-06-21 a version online can be found at https://archive.org/details/correspondancede04napouoft
Covers #2426 (5th March 1798) to #3364 (21st September 1798), In French
&quotCorrespondance de Napoleon 1er, Vol. 5 editors: Plon & Dumaine, Paris, 1860
As of 2018-06-21 a version online can be found at https://archive.org/details/correspondancede05napouoft
Covers #3365 (22nd September 1798) to #4383 (15th October 1799), In French
&quotCopies of the Original Letters from the Army of General Bonaparte in Egypt intercepted by the Fleet under the command of Lord Admiral Nelson with an English Translation&quot published by J. Wright, London, 1798
Multiple additions available online, there were in fact at least eleven original editions, one copy can be found online as of 2018-06-23 at https://archive.org/details/copiesoriginall01unkngoog
Given the length of the title will refer to this as "captured letters" or "original letters" and use the internal pagination.
Digital copies of contemporary maps from E.L.F. Hauet manuscripts on American University of Cairo website can be found at http://digitalcollections.aucegypt.edu/cdm/fullbrowser/collection/p15795coll6/id/214/rv/compoundobject/cpd/217 accessed 2018-06-23
also http://digitalcollections.aucegypt.edu/cdm/search/collection/p15795coll6/searchterm/Hauet last accessed 2018-06-23
As cultivated areas and waterways have changed and also some place names are not the same as in current books or on current maps these are quite useful.
Digital copies of maps from Pierre Jacotin's Atlas of 1826 are also useful and can as of 2018-08-04 could be found online in the David Rumsey map collection online at www.davidrumsey.com. Search on "jacotin".
&quotNavies of the Napoleonic Era&quot by Otto von Pivka, David & Charles Ltd, Newton Abbot, Devon, and Hippocrene Books, New York, 1980
&quotThe Naval History of Great Britain, Vol. II&quot by William James, Richard Bentley & Son, London, 1886
Copy online, last accessed 2018-06-29 at https://archive.org/details/navalhistoryofgr02jameuoft
He gives a translation of a letter of the 13th of April 1798 from Bonaparte to the Directory on page 125 of Vol. II, it is #2502 in Napoleon's Correspondance, it stands as apparent evidence of just how serious Bonaparte was about attacking and defeating England directly despite the apparent strength of the Royal Navy.
&quotThe Life and Correspondance of Admiral Sir William Sidney Smith, G.C.B &quot in two volumes by Sir John Barrow, Richard Bentley publisher, London, 1848
Digital copy of Volume I available online as of 2018-08-06 at https://archive.org/details/lifecorresponden01smituoft
Volume II at https://archive.org/details/lifecorresponden02smituoft on 2018-08-23
&quotNapoleon's Egypt, Invading the Middle East&quot a blog, contributors Juan Cole and David L. Boyle, last accessed at http://napoleonsegypt.blogspot.com on 2018-08-23
Has numerous transcripts of primary documents and near contemporary accounts.
&quotNot a Drum Was Heard; The Life of Sir John Moore&quot by Roger Day, Pen and Sword, Amazon e-book, 2013, ASIN B00DN5TTH4
&quotThe Life of Lieutenant-General Sir John Moore, K.B.&quot by James Carrick Moore, Wagram Press, Amazon e-book, 2015, ASIN B06XGN5MM1
Moore played a significant role in the British invasion of Egypt
Some Notes on Names
As is to be expected when dealing with sources that were originally in multiple different languages, written over a period of a couple of hundred years, and which in many cases are natively in a non-Latin alphabet names are often represented in varient forms.
Both place names such as:
Marabut - Marabout - Marabou - location of beach French landed on
El Beydah - Beydah - Al Baydah - location of cisterns
El Karioun - El Keryoun - site of well
Birket-Gheytas - Birkat-Ghattas - Birkat-Ghitas - village near halfway point on Nile to Alexandria canal
Abukir - Abuqir - Aboukir - Abu Qir
Rosetta - Rosette - Rasheed - Rashid - city at mouth of the western arm of the Nile
Damanhur - Damanhour - Demenhour - site of an army assembly and near mutiny
Raymaniya - El Rahmaniya - El Rahmanyeh - Rahmanie - Rahmanich - Rahmahanie'h - Ar Rahmaniyyah - "an insignificant town" on the Rosetta arm of the Nile, place where canal to Alexandria meets Nile
Beheira - Bahyreh - province Alexandria, Damanhour and El Rahmanyeh were all contained in.
Nekleh - Nikleh - Nikla
Embaba - Imbaba - Embabeh - Embabe - Imbabah
Bulaq - Boulaq - Boulac - east bank river port for Cairo
Shubra Khit - Shubrahkit - Chabrakhyt - Chobrakhyt - Chebreisse - Chebriki
Omm-Dinar - Ommedinar
Giza - Gizeh - Gyzeh - Al Jizah
Cairo - Kaire - Al Qahirah
Mansourah - Mansoura - Al Mansurah
Saleheyeh - Salheyeh - Salahiya - Salaieh - El Salhiya - Salehie - Es Saliya - El Saleheya - a village on the edge between the delta and the Syrian desert
Manouf - Minuf - capital of delta province, Zajonchek's command
Damiette - Damietta - Damyut - Dumlat - city at mouth of the eastern arm of the Nile
Koraim - Korein - Koraym - al-Qurayn
Belbeis - Belbeiss - Belbeys - Belbes - Bilbays
al-Khanqa - Kanka - El Khanqah - Al Khanikah
El-Menzaleh - Menzalah - El Manzala
Qatiya - Qatyeh - Katia - Cathich - Katiya - last place on road through Sinai desert to El Arish.
Bahyreh - Al-Buhayrah - province Alexandria is in
Qusayr - Quseir - Qoseyr - Quseer - Kosseir - Al Qusayr - Red sea port on route to Mecca
Azbakiya Square - Esbekiya Square - Ezbekyeh Square- main square in Cairo, seasonally flooded
St. Jean d'Acre - Acre - Akko - new capital and fortress of Djezzar Pasha, former Crusader stronghold
Bahr Yosuf - "Joesph's canal"- parallel channel of Nile artificially altered in places which flows into El Faiyum oasis
Al Uqsur - Luxor
Beni Suef - Bani Suwayf - capital of province of the same name; south of Atfyeh, east of Faiyum, north of Minya province.
El Bahnasa - Oxyrynchus
Qena - Kenah - city in upper Eqypt a bit north of Luxor and the Nile terminus of the route from Kosseir on the Red Sea.
Qalyub - Qelyoub - city and province immediately north of Cairo, Murat's command
El-Mahalla El-Kubra - Mehallet-el-Kebyr - city just south-west of Mansura, capital of Gharbia (Al-Gharbiyah) province in mid-delta from 14th to 18th centuries, Fugiere's command
Gharbia - Al Gharbiyah - Gharbyeh - province in middle of nile delta
Atfyeh - Atfih - town and province just south of Cairo on Nile about level and to east of Faiyum oasis, Rampon's command
Sharqia - Sharkiya - Sharqiya - Charqyeh - south-eastern most province of the delta, capital Belbeys a.k.a. Belbeis, Reynier's command
El A'rych - El Arish - first Ottoman held town on route into Syria
Safed - Tsfat - Tzefat - Zfat - Zefat - fortress town, highest point in Galilee on road to Damascus
pont d'Yakoub - pont de Banet-Yakoub - Jacob's Ford - Jacob's Bridge - Daughters of Jacob's Bridge - Benot Ya'akov - bridge crossing the Jordan on road to Damascus, modern route 91, key crossing point for millenia
Tiberias - Tabarieh - Tabarych - town on west side of the Sea of Galilee
Chaea Amr - Chafa-A'mr - town in valley of Jezzeel just inland from the gulf of Acre, major staging point for French expeditions into the interior, corresponds to modern Shefa-'Amr a.k.a. Shfar'am
Lubia - Lubya - Loubia - Loubieh - town 10 km west of Tiberias, half way on route to Cana, site of "Combat of Nazareth", destroyed in Arab-Isreali War of 1948, near modern kibbutz of Lavi.
Kafr Kanna - Qana - Cana - town where Jesus turned water to wine, in Galilee near "Combat of Cana", 20 km inland from Tiberus, north east of Nazareth.
Janin - Jenin - Genyn - hill top town across valley from Nazareth with restless Arab inhabitants
Gherar - town on route from Haifa to Genyn
Jisr al-Majami - pont de Gesr el-Magama - pont de Magama - Bridge over Jordan south of the Sea of Galilee on alternative route from Dasmascus
Sur - Sour - Tyre - port town north of Acre, garrisoned by French
---
---